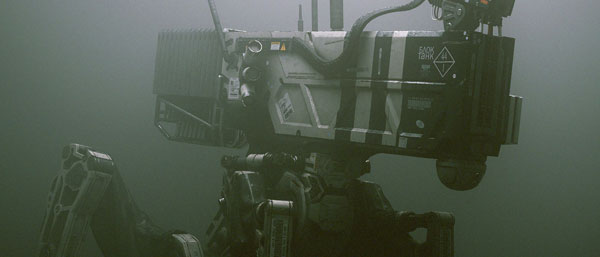 Anyone with a taste for sci-fi will find Big Lazy Robot's (BLR) spec film, Kaloid, a tantalising treat, and all the more so if AIs and mechanized armour are your sort of thing. The film is effectively a high impact trailer for a film that doesn't exist. The plot, as typically presented by a trailer, is not fully apparent but there are allusions to humanity having installed AIs to keep the world's population in order, perhaps under the thumb. It seems something has gone wrong, or significant elements of the human population have grown tired of their tyrannical custodians and have decided to revolt.
The film spent two years in the making for a completed film of just 3 gripping minutes. The production values are nothing short of AAA, and has purportedly attracted attention for a possible full production. The first thing I thought when I saw the robotics designs was that it looked like some of the design talent  from District 9 was somehow involved. This turns out to be true. The guy, as I know now, is Aaron Beck, who is based out of Wellington, New Zealand. In addition to his work on District 9, Beck has also worked on Avatar and Elysium. Beck's Blogger currently has a modest following and is home to some very inspiring works of cyborgs, androids, and other sci-fi goodies.
However it pans out for Kaloid, BLR, the small Spanish based firm, has made its splash with their production work to date. Just check out their worked on the rather stylish Absolute Vodka ad. Or perhaps more interesting to us 3D enthusiasts, why not check out the fantastic advert they worked on for German electronics retailer, Saturn. For this they made and rigged the models and animated the some of the sequences.
Saturn – Evolution from BLR_VFX on Vimeo.