Steve Winter's work grabbed my attention some months ago amid many posts to a Bryce themed Facebook group. The particular image was of an imposing insectile machine standing amidst a gloomy rundown cathedral. It was the mecha monstrosity that caught my eye more than the overall image presentation. I was particularly drawn and stunned because Steve does his modelling entirely in Bryce (mostly 4), a program that few would associate with heavy modelling tasks. Steve's designs are complex, frequently composed of millions of Bryce primitives and Boolean operations.
Steve's works gets even better, not only is he a master of Bryce of model mancery, but he is a skilled visual artist (digital and traditional), so while many of his renders are WIP demonstrations he also has a stunning collection of superbly finished images. Most of his digital works can be found at his Renderosity gallery where he goes by the name The Lord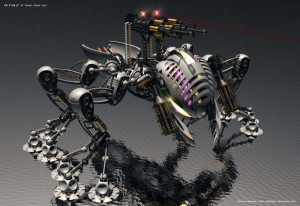 Of Dragons, a title endowed by a Japanese business man who bought several works from a youthful Steve Winter back in his homeland (UK). His 3D works have a serious sci-fi bent, with his renders of the last few years dominated by his InZect creations. His publicly available works do also include some other spectacular renders.
Jim: I admit to being awed when I first saw your mecha-insectoid creations (still am). The idea of creating such complex models in a program that was never designed to be a full featured modeller is mind boggling. Is it a gruelling project putting together one of your InZects, or is Bryce a lot more adept as a modeller than an outsider might expect?