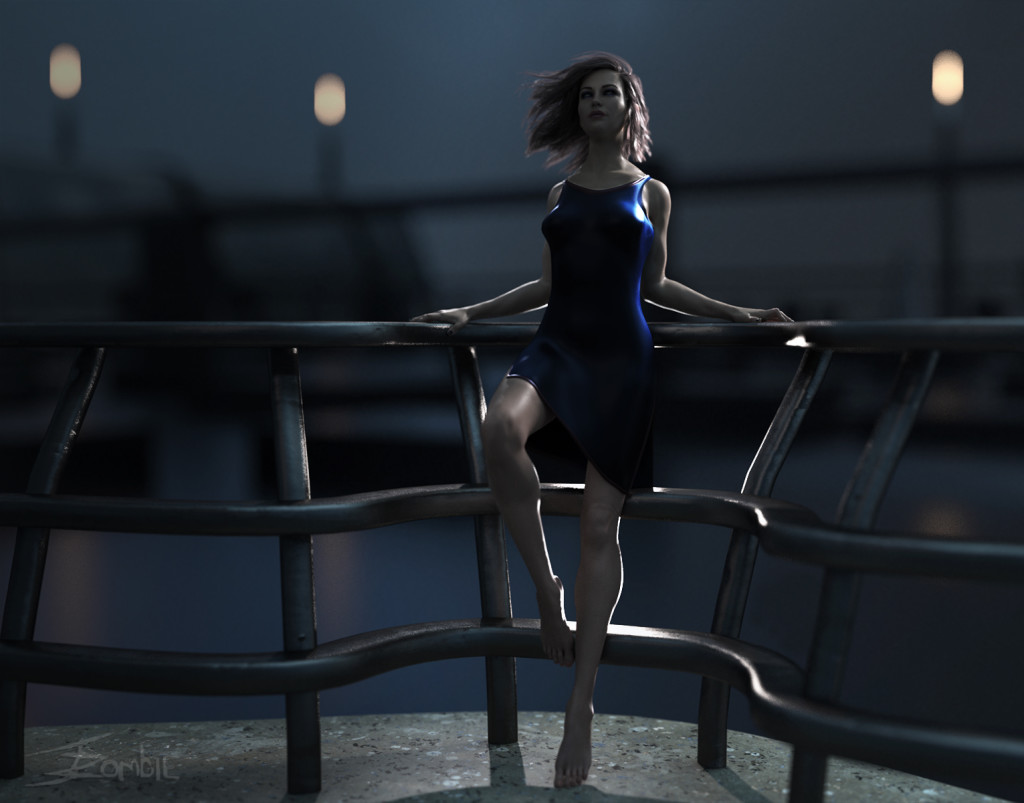 Creating Content for Victoria 8
This is an image (1920×1080 unmarked wallpaper version here) I was working on for the V8/Genesis 8 review. I wanted something to show that was basically entirely my own, but there were some setbacks and it was taking way too long, so I put it on hold.
Everything here (aside from V8) was modeled in LightWave and UV mapped with UVLayout. The dress is draped using DAZ Studio's Alembic exporter plugin (figure pose animation), and LightWave's cloth Physics FX, which is often painful. I've been considering Syflex, which has plugins for many 3D suits (LW, Modo, Maya etc) or VWD Cloth and Hair (Poser) and it's DAZ Studio plugin. If anyone has any experience with either I'd love to hear. If I pick up either I'll be sure to do a review.
I've used shaders from Mec4d's amazing PBS Shaders vol 2. for Iray (platform and dress) and vol .1 (rails). I am not a skilled texture and shader artist, so I love shader packs, and these are some of the best available at DAZ 3D's store.
Victoria 8 floating dress fix
Anyway, while rigging the dress (which I constructed specifically for the Victoria 8 morph), I ran into an annoying issue where the dress would "float" up off the figures shoulders. I don't know how to fix this, but I do have a work around that does the trick.
Loading in the original mesh as a morph and then dialing it to max effectively dials out the weird shape the Transfer Utility thinks Victoria 8 is, returning the dress to the correct shape and location.
As far as I can tell this fixes the problem, or at least works around it. The item will morph correctly.
Victoria 8 Eyebrows
The fiber eyebrows that come with the base Victoria 8 product completely slipped my mind when I was doing the review. They come in just shy of 50k polygons, which is over three Genesis 8 figures, so not exactly a light prop. For closeups, they can make a world of difference.
I used them here, and while the benefit is debatable, it is still better than the bump maps, which is a step up from having drawn on eyebrows (though sometimes that's exactly what you want – I'm not judging).
And that's all for today. A bit of a mixed post, but hopefully something useful there for you all.